How to work with absence policies
A policy is a set of specific rules for an absence type. You can add additional policies if you have employees who are subject to other legislations, who have individual employment contracts, etc.
You need a System role with Full access to Absence to be able to manage policies.
How to add a policy
1. Go to Absence settings
2. Scroll down and find the absence type you want to add a policy for and press + Add policy
3. Fill in desired settings and click Save
Policy name - A descriptive name for the policy
Default for new employees - Should new employees automatically be assigned to this policy
Time period - How registered days should be counted. Choose between Follows the calendar year and Based on a rolling period.
Limit number of days - If this is turned off, employees can register unlimited amount of days each time period.
Allow days to be transferred - Enables transferring days from one absence period to another. This is only available if the Time period is set to 'Follows calendar year'
Export code - This will be included in absence exports. Should match your external absence system's codes.
Sick leave 50%?
Want to be able to register partial or graded absence or part of day, like 50%? Please head over to the Absence Type Settings and enable it on the type settings.
How to assign people to a policy
After creating your Policies, the next step is to assign your employees to them. Employees can only be assigned to one policy for each absence type. For example, one vacation policy, one sick leave policy, etc.
There are two ways to assign people to a policy:
Assign several people at once
Go to the policy you want to assign people to
Click Assigned people in the tab bar
Click the button Assign people in the top right
Choose employees
Pick Effective date (when the policy should take effect)
If you leave this empty, this policy will overwrite all former policies.
Click Assign
Assign one person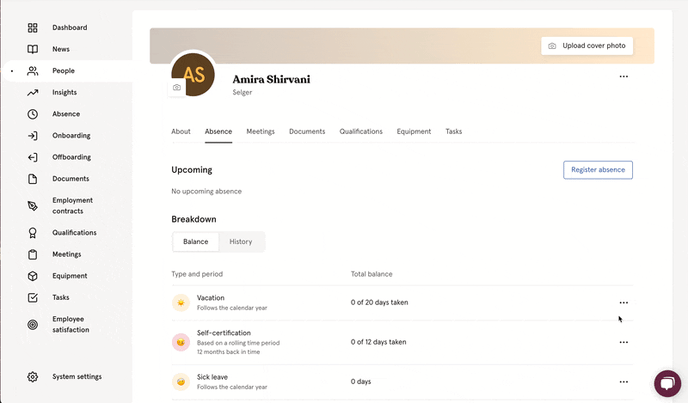 Go the person you want to assign and click on Absence in the tab bar
Click the three dots on the absence type that you want to change and select Manage policies from the dropdown menu.
Click + Assign to a new policy
Choose which policy they should be assigned to
Pick Effective date (when the policy should take effect)
If you leave this empty, this policy will overwrite all former policies.
Click Assign to policy